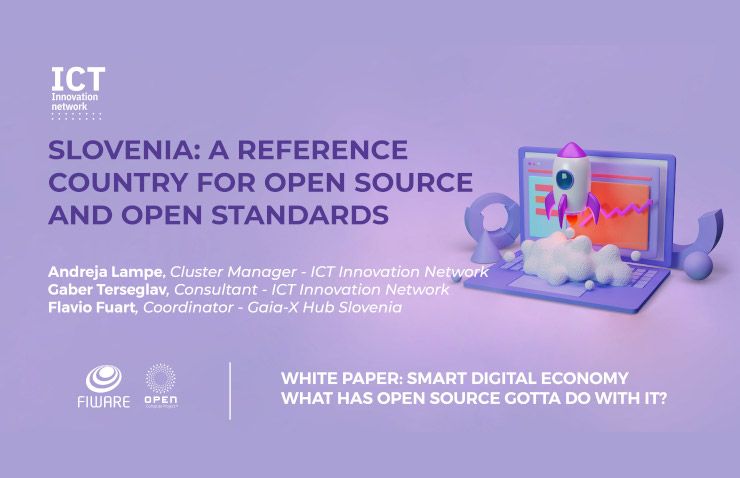 01.02.2022 by Flavio Fuart 0 Comments
White Paper on Smart Digital Economy - What has Open Source Gotta do with it?
ICT Innovation Netwok and Gaia-X Hub Slovenia team members have contributed to the FIWARE White Paper on Smart Digital Economy - What Has Open Source Gotta Do with It?
Innovation in AI (namely, self-driving cars, telecommunications and energy grids, cybersecurity, smart cameras, drones, robots and city brains, etc.) has been driving smart cities towards digital urban environments. From optimized logistics to fraud detection, from social distancing to facial recognition, intelligent machine systems are transforming both the management and experience of urban services.
Just as these systems become more capable, our world becomes more efficient and open source has a lot to answer to that. Open source innovation is at the forefront of ensuring that software-based processes, operational models, decision-making, and end-user experiences happen in a sustainable and cost-effective manner.
Dozens of FIWARE members and partners co-created the White Paper, including the ICT Horizontal Network. The document addresses how cities can mindfully advance their digital transformation via open source innovation, from a practical perspective.
Slovenia is highlighted as an example of good practice and as a reference country for open source and open standards. Slovenia is "the first country in Europe to have requested its cities to use the CEF Context Broker and apply MIMs when implementing strategies for smart cities and regions, Slovenia is laser-focused on value-added applications".
Read the full document HERE.
Feed